Omaha Storm Chasers
AAA Kansas City Royals
Pacific Coast League 2011 Champions
Date Visited: August 6, 2011
Some Notes:
When I first arrived in the afternoon, a sign outside the ticket booth said only berm seating was available. They did have a single seat available and thanks to the individual at the ticket booth for getting me a good seat. Recommendation - if you are not going solo, order tickets in advance
There was a 1:12 minute rain delay in the 4th inning. In the 8th inning there was a major rain and wind storm (another delay). I've never experienced a tornado but this felt pretty close (it wasn't a tornado). There was supposed to be a concert after the game but I'm going to guess and say that didn't happen this evening. I left after the storm in the 8th inning but according to the box score the game continued on.
Radio Announcer: Excellent! 1180AM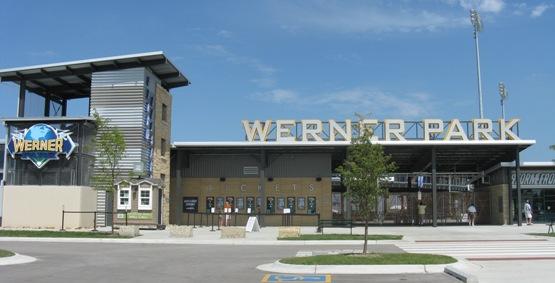 The architechure is unique to other new ballparks. Corrugated metal (I call it silo material) is used in the design of the park. See the tall structure on the left in this photo. There are open wood slats on both the entrance gates and the rest rooms (see below for rest room photo).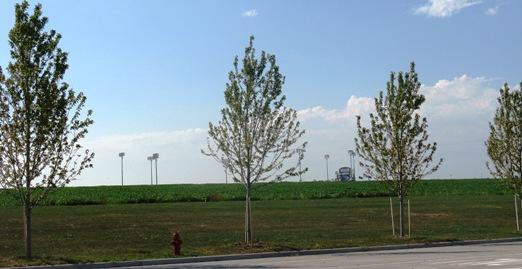 When I visited this stadium in 2011 it was basically in the middle of a crop field as shown to the left.
Not a bad thing, just an observation.
Seeing those lights from a distance is such a beautiful thing.
I suspect some development (restaurants, hotels, shopping areas, etc.) around the area in future years.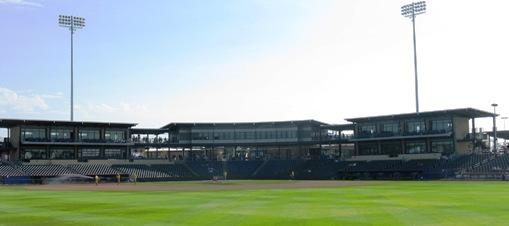 One could walk around the entire concourse. Three distinct structures with walkways between them. I'm going to guess and say they did this to get some breeze in the stands.
It was so hot and humid the evening I attended a game here.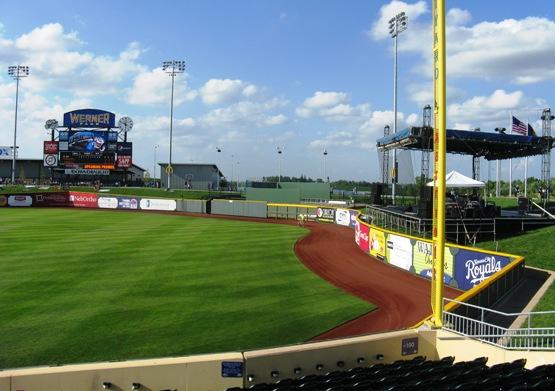 Right field has a concert stage just beyond the wall as indicated above. There is an unusual curve in the right field warning track, noted above. The bullpens are 'stacked' just beyond center field (between the concert stage and scoreboard and below the flags).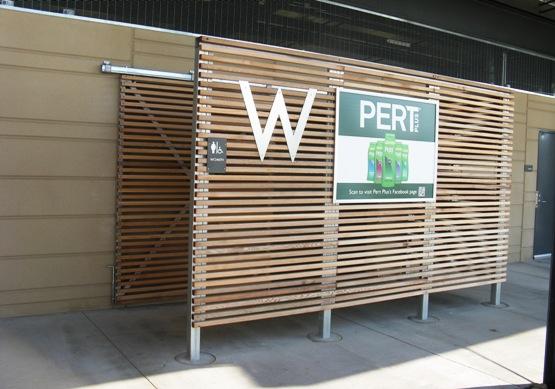 The entrance to the bathrooms also have the wood slats -making it look like something you would see on a farm.
This woman's room is the one I retreated to when that awful rain/wind storm started.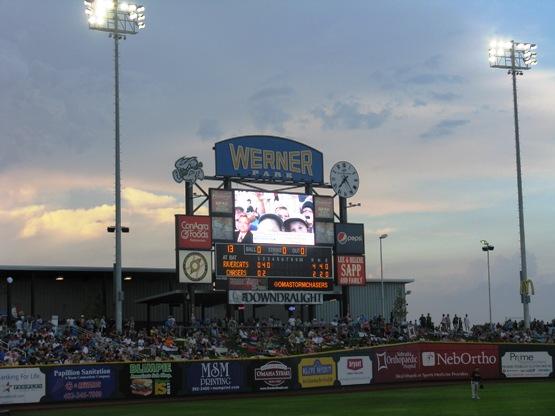 You can see the clouds starting to roll in just before the first rain delay this game.
The stadium has a nice, big clock and a grassy berm area.
The Downdraught, located below the scoreboard, is a bar that pours its beer from the bottom of the glass.
Other Notes:
The Storm Chasers all wore hi-socks - all of them: the players, managers, coaches, bullpen

There is a dirt path from the pitchers mound to homeplate

Home dugout is on the third base side

There are Storm Girls (pretty, college-age females) who stood on top of the dugout not doing much except blocking my view. Fortunately, they did not stand there during play.

There were way too many in-between inning gimmicks

The announcer rattled off the starting line up too fast

Tons of unnecessary noise from the PA system between pitches

Huge kids zone beyond left field