Date Visited: July 17, 2011
Customer Service: Average
Team Website: RiverCats
There was a bunch of construction going on around the stadium. The main entrance was quite pleasant (above) with trees for shade and benches and tables for folks to rest and/or wait for others in their party.
Things I liked about the stadium:
The n

et ends before dugouts begin (can watch the game without the distraction of the nets)

There was n

ot a lot of

'noise' being blared from the PA sound system

between pitches

RiverCat Gardens (a vegetable garden along the firstbase concourse)

Lots of a

rt throughout the stadium in a variety of media

Lots of dragonflies

Exciting game - ending with a walk-off homerun by Jai Miller of the River Cats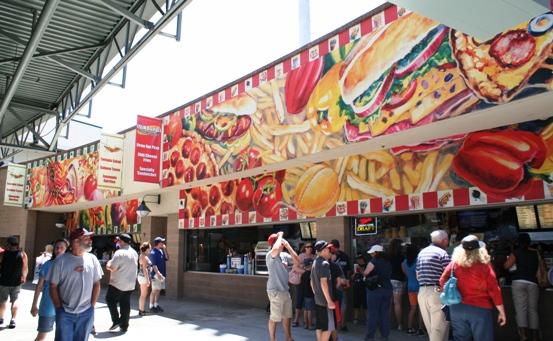 Photo courtesy of Barbara Paley
Colorful murals painted above the concession stands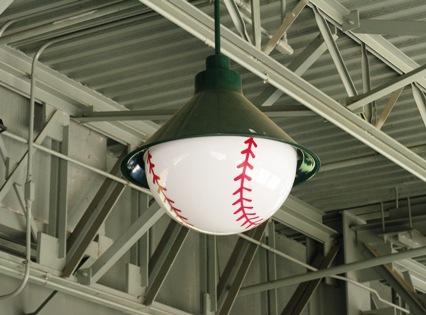 The lamps/lights are painted as a baseball. How very creative!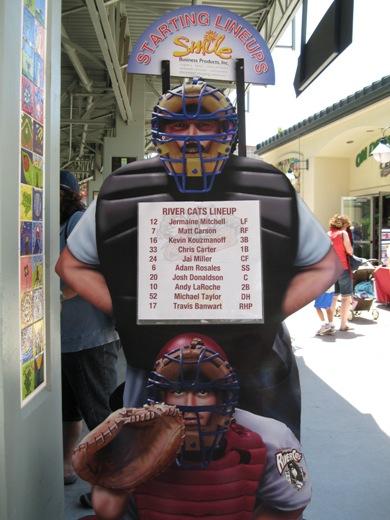 Starting lineups posted on an umpire-catcher painted poster board/statue. Nicely done.
You can see more artwork in the colorful tiles on the column on the left.
Photo courtesy of Barbara Paley
Things I didn't like:
Construction around ballpark

No microbrews

Lots of annoying promotions between innings

Can't walk around entire concourse

I found it expensive for minor league baseball (e.g., $4.75 for a bottle of water)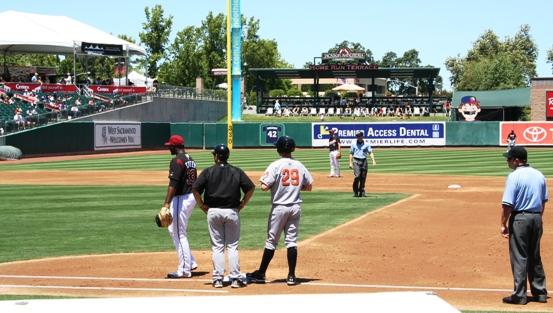 Beyond the leftfield wall (above the Premium Access Dental advertisement in this photo) lies the Home Run Terrace. It includes a grassy berm on which you can lounge, beach chairs, and a covered picnic area where you can sit back, relax and enjoy a meal while watching the game, maybe even catch a home run. Bullpens were not on the field but beyond the outfield walls.
Photo courtesy of Barbara Paley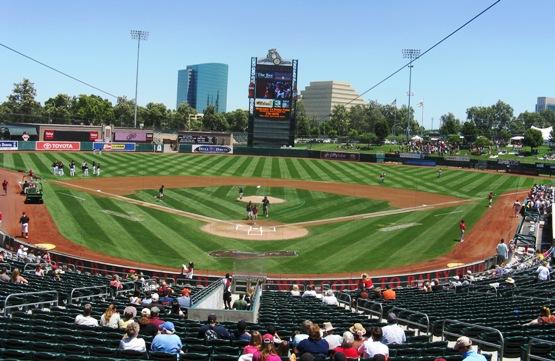 The field from behind homeplate.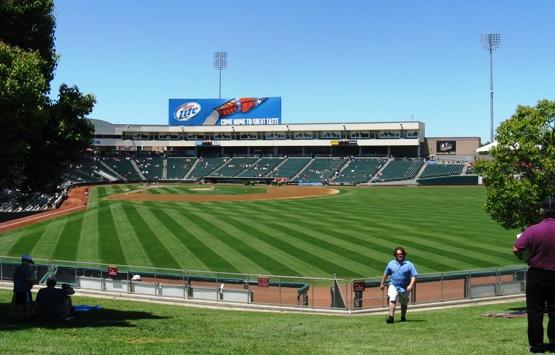 From the outfield looking towards homeplate.
The bullpens are just behind the chain link fence at bottom of the photo.
There is one level of seats plus sky boxes on the second level.